My friend Crumbs and I have been friends since we were five. (That's 30 years!) Today her daughter celebrated her third birthday, so Z and I went down to Melbourne for her party. 
It was an afternoon of privileges – to have such lovely friends and to have known them all for so long, to have all this party food to eat, and to be able to travel by car, four trains and a tram in absolute safety without a hiccup.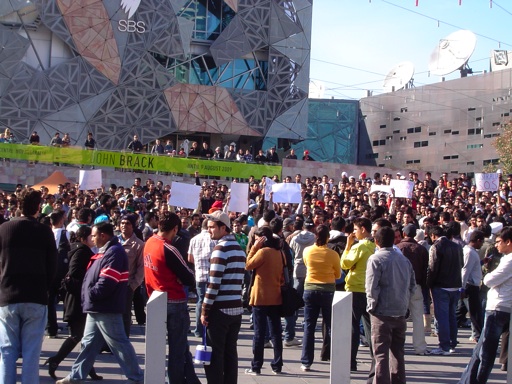 Not so for so many. When we arrived in Melbourne we were met by 2,000 of Melbourne's Indian population who were protesting against the rising number of violent attacks against its community.
The protest began at the Royal Melbourne Hospital where an injured Indian student is battling for his life, and concluded at Parliament House with a candlelight vigil in support of the 500 Indian students who have been attacked over the past four years.
As we celebrated the wonder of Crumb's three year-old and sang Happy Birthday, I quietly dedicated one of the candles on her cake to the 500 students and their families.