I took these photos yesterday at the
Monash University Museum of Art
 in Melbourne. PJ and our friend Jason Workman, who together make up
WorkmanJones,
had two of their films showing in a group show entitled 
Too Much of Me: 7 Paths Through the Absurd, (with Detour).
If you live in Melbourne, I recommend you make the schlepp out to Clayton. It's a really great show.
Some of my favourite pieces were by the Austrian artist
Erwin Wurm,
 whose
One Minute Sculptures
comprise several low white plinths on which he had instructions/encouragements for how he envisaged people to interact with the object or objects on the plinth.
Take your must loved philosophers
, this one says, in relation to a pile of philosophical texts.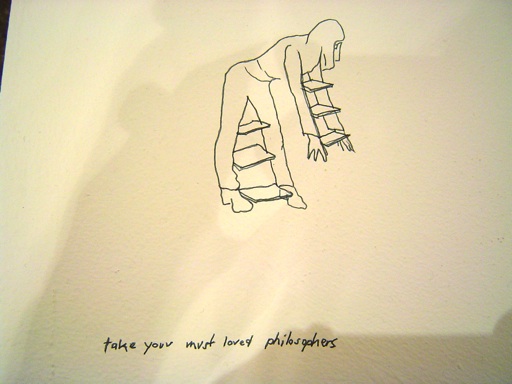 Carrying a bomb for a minute
, this one says.