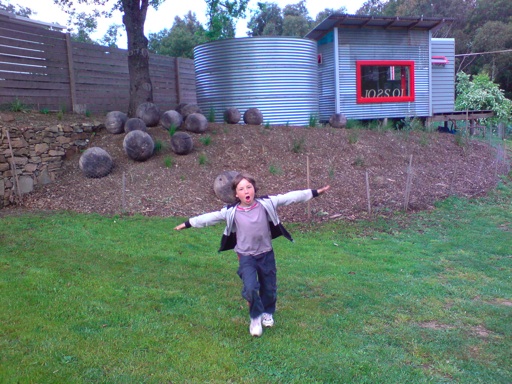 Since we first got together, but more seriously for the last 18 months, PJ and I have been talking about the areas in our life that we'd like to change in order to live more sustainably.
Trying our best to avoid buying things that are made from or packaged in plastic is our ongoing mission. On the whole I feel great about it, although there's an organic grapefruit juice we no longer buy because it comes in a plastic bottle, that I really, really miss.
Buying local is another rung on our transition ladder, which we are incrementally working towards. As is only buying second hand clothes.
We recently made a decision that feels a lot bigger than the steps we have taken so far. And that is not to fly overseas by plane again. PJ and our friend Jason, who together make up the outfit
WorkmanJones
have been invited to show their work at a gallery in the States next year, accompanied by their respective partners. Airfares and artist fees were included. I was planning to see my sister Abby, among other people, but now it looks like I won't see her or them until they come to Australia or until air travel is powered by non-polluting fuel.
This feels huge! One of the sites I write for is a travel site. On my profile it says
As a writer, Meg is often asked about the one book that has been the most inspirational or influential in her life. For all the insights, adventures and revelations it has afforded her, she would hands down have to say her passport.
And I'm not just saying that. It feels like a huge thing to say I'm never going to travel overseas by plane again.
What about you? Is there anything you have given up or can't imagine living without?