It's my niece Indigo's 9th birthday today and to celebrate she had some friends over for a slumber party last night. I went over to hang out with them for a while. What a great age 9 is — so mature yet still so gorgeously unselfconscious.
For dinner they each dressed half a homemade pizza base with their favourite toppings. Unfortunately I couldn't stick around for the eating as I had my own dinner to get home to.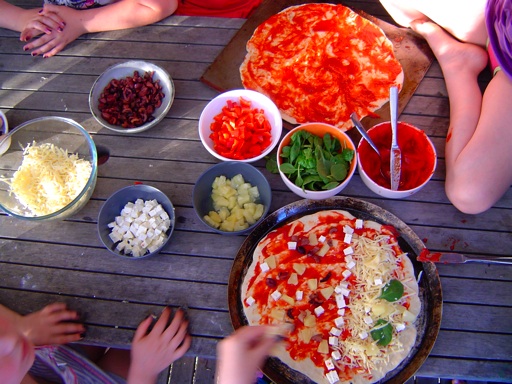 It was my turn to cook, and on the way home from the party I was busy planning what I was going to make. But it turned out all I made were ooh and aah sounds as PJ had surprised me with this delicious home grown, home caught, home cooked meal.
The greens are all from our garden — silverbeet, spinach, broccoli, snow peas, sugar snap peas, spring onion, spearmint, wild rocket, broad bean leaves, oregano and parsley. The Redfin (English Perch) was caught by yours truly in the local lake the day before, and the lemon was gifted by some friends.
I like what David Graeber says in his book
Possibilities:
Sexual relations, after all, need not be represented as a matter of one partner consuming the other; they can also be imagined as two people sharing food.