I read somewhere recently how odd a thing it is that the laws of our nation's future are created according to a constitution created over 100 years ago.
Walking up the stairs of our local town hall yesterday to get to the boardroom, I really felt the heaviness of that tradition.
In 2005, our local council established the Women's Honour Roll to pay tribute to women in the Shire whose contribution, courage and example have led to significant social change. For the last 4 years, the award ceremony has been held on March 8, International Women's Day. But this year it was held 2 months late, because the usual March date didn't fit in with Council's schedule.
There was much community uproar that the local event was not held on International Women's Day, a day that has been commemorated since the early 1900s, the world over. And so I volunteered to be on the Honour Roll committee, to ensure that this year's ceremony was held on or close to, International Women's Day.
This is the food that sat in the middle of the boardroom table the committee sat around:
This is the mantlepiece I sat across from as I thought about my own contradictions: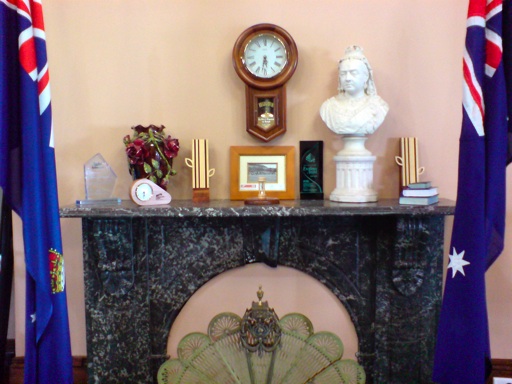 On one hand I couldn't believe how stuffy and outdated the town hall was, while on the other hand, I was only there to uphold a tradition that had been broken.