A couple of months ago I came across a post a blogger named Sian in South Wales had written about
her kids sleeping in the bath.
She posted this photo,
and wrote:

Now I tried to sleep in a bath once. It seemed like the thing to do at the time (and yes, it was at the end of a convivial evening) and despite being rather immune to discomfort, courtesy of Mr Smirnoff, I remember it as being deeply unsuccessful. So my knee jerk reaction was to say no...




...and then I thought - why not? Why on earth can't they sleep in the tub if they want to? It's not as if I am forcing them to sleep rough in the bathroom. So I agreed, on the premise that if they found out that they didn't like it, that they would get into their own beds without waking me at 3am to give me the low down on everything. 'Kay? 'Kay.
Yesterday when I received a lovely comment from Sian on my
Tank Man Tango
post I was reminded of the comment I left on her blog: "I am 35 and have never slept in a bathtub. This fabulous post makes me think I must add it to my list of things to do before I am 40."
And so last night I thought: Tonight's the night. I dragged some bedding into the bath where I lay for about an hour before PJ came in and took this photo.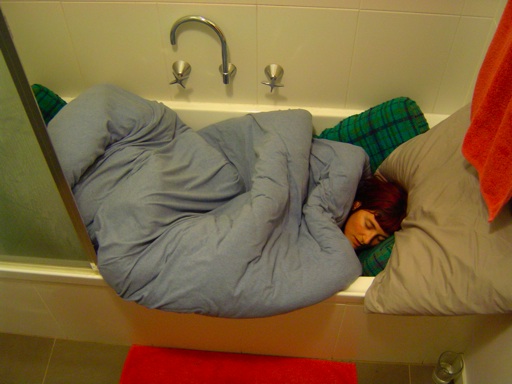 I'm sorry to report to your kids, Sian, that I didn't last the night.