I have a lot of red things - found, bought, stolen, gleaned, acquired, gathered. For some reason, I am avoiding the word collected. Collected to me involves some kind of purpose - one does it actively. I collect my chickens' eggs, I collect Z from school and I am collecting
stepmothers to interview.
I used to collect rubbers. I still have them, in a bag in a carton in a box. Since I stopped collecting them I must have opened the box, the carton and the bag maybe half a dozen times.
I picked my niece Indigo up from school yesterday. She has just started collecting rubbers. All day I had the
Ghostbusters feeling
that I was going to blow her mind with my collection. I couldn't wait!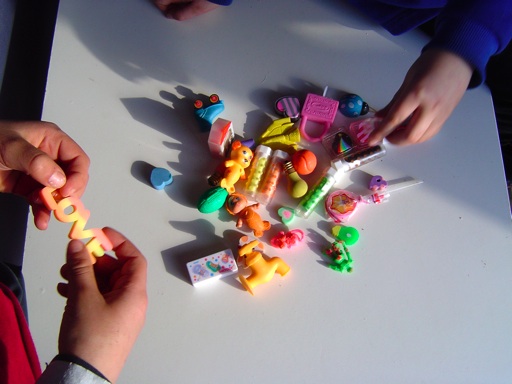 But when I had finally emptied the bag onto the table where she and Z sat, instead of bits of wowed brains splattered everywhere, there were just two underwhelmed kids, and me, the very very grown up, grown up.