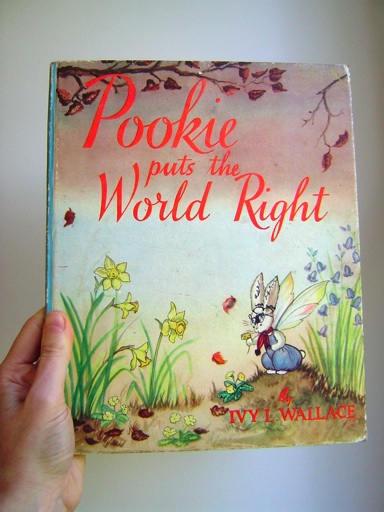 Z loves this book. It was a gift from our friend Vivienne who had it when she was a girl.
Pookie is a little white rabbit who, after a nasty storm, tells Winter to go away and never come back. But then, when Winter shows no sign of returning, and Autumn is followed by Spring, "the Woodland Folk realised what trouble they were in."
"Who will wash away all last year's old leaves and rubbish?" they asked each other anxiously. "Who will spread a blanket of snow so that we can sleep snugly underneath in our cosy homes? We cannot manage with just Spring, Summer, Autumn... and then Spring again! Flowers cannot get ready to flower again without a rest during the Winter! Hedgehogs and Dormice and Squirrels and lots of other Animals must have their winter sleep!"
I used to be like that. If Winter wasn't going to go away, I would fantasise about migrating to some place tropical for a few months. But now that our plum tree is starting to bud and the time we have to lock the chooks up is getting later and later each night, I am sad that Winter is leaving, and that the bushfire season will be upon us so soon.
In this illustration Pookie is asking Winter to please come back to the woodlands, because the animals have realised that they need him. I don't know that I would go so far as to ask Winter to stay longer, but I am surely going to miss him when he leaves.